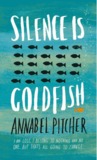 Silence is Goldfish
by
Annabel Pitcher
My rating:
4 of 5 stars
Silence is Goldfish by Annabel Pitcher
I was sent this book for the Goodreads Giveaways.
By the author of Ketchup Clouds and My Sister Lives on the Mantelpiece, Silence is Goldfish is about fifteen-year-old Tess who discovers her father isn't her real father. She starts out by realising what has happened, that she feels she has been living a lie for the past few years, deciding she will pack a few of her things and go looking for her real father, regardless. Tess would love nothing more than to tell her mother how she feels about her recent awful discovery, but she instead holds her disappointment inside, letting it fester away at her.