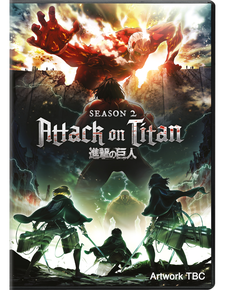 Attack on Titan Season 2
To be released:
26 Feb 2018
On Blu-ray and DVD
If the Levi and Eren dakimakura pillows and endless doujinshi aren't enough to convince anyone how popular this series is, then maybe the fact the second series is coming out on DVD and Blu-ray. Let's face it, it's a perfect late Valentine's present for your loved one, or just bite the bullet and go out and get him/her it for those special occasions.
The battle for humanity's survival continues as the epic anime adventure ATTACK ON TITAN SEASON 2 arrives on DVD, Blu-ray™ and Limited Edition Blu-ray™ on February 26, courtesy of Sony Pictures Home Entertainment. With an all new 12-episode season, the struggles become more personal and the secrets of not only the Titans, but of those around them, will start to unravel.